TAKE A LOOK AT EMME's TEDx TALK
The Syracuse University fashion design program in the College of Visual and Performing Arts (VPA) has joined with iconic supermodel and entrepreneur Emme '85 to launch "Fashion Without Limits," a design initiative that promotes the creation of size 12+ designs in the junior year through a special competition.
"Fashion Without Limits" was created in direct response to a need for increased availability of size 12+ fashions throughout all levels of distribution in the fashion industry today. 12+ represents the size range a majority of American women wear, which is often categorized as "plus-size," for lack of a more acceptable term.
According to Business Insider, "plus-sizes … account for 67 percent of the population;" a recent survey of more than 5,000 U.S. women by online retailer ModCloth found that "more U.S. women report wearing a size 16 dress than a size 2 and 0 combined," and "57 percent of U.S. women wear at least some clothing in sizes 16 and above."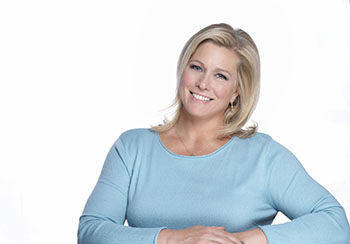 Emme (Photo by Nitsan Tal )
The inaugural "Fashion Without Limits" competition to design an evening dress will be announced to junior fashion design majors at the beginning of the fall 2014 semester. The students will work on their designs throughout the academic year, with the winning design announced at the conclusion of the spring 2015 semester. The winner will receive the 12+ EMME Award™ and $500. Emme will also wear the winning design at a red carpet event.
The student designers will work exclusively with dress forms donated by Wolf Form Co. in Englewood, N.J., the premier designer and manufacturer of standard and custom handmade forms in the fashion industry. The dress forms allow the students to design for sizes 16, 18 and 20.
"I am deeply grateful to feel the warm embrace in my partnership with Syracuse University's College of Visual and Performing Arts and 'Fashion Without Limits;' initiative leadership by Assistant Professor Todd Conover; unwavering support by Del and Burt Hunton of Wolf Form; and confirmation for this revolutionary step in fashion education from the student body," says Emme. "These are all steps that will help create a radical shift in how American designers celebrate a woman's body. "
"Emme's passion made us aware that many college fashion design students can't even try on their own designs because they only work with size 8 and 10 dress forms," says Del Hunton, head of sales at Wolf Form Company. "We were happy to donate the forms to help the fashion design program become a founding father of size 12+ design."
"We are so proud to be collaborating with Emme and Wolf Form Co. on the 'Fashion Without Limits' initiative," says Todd Conover, assistant professor and coordinator of the fashion design program in VPA's Department of Design. "We have planned curriculum changes within the fashion design program that will introduce this powerful initiative this coming fall, and we have future plans to implement additional curriculum changes to integrate 'Fashion Without Limits' into all four years of our program. Thanks to Emme's passion and commitment to aspirational high fashion for every body type, we will be at the forefront of a movement that I am hoping will spread throughout fashion programs, designer workrooms and retailers across the country and will begin to alter body image attitudes."
In addition to curriculum changes and the competition, the fashion design program plans to offer a related speaker series. The program is currently fundraising for the purchase of fabric and other associated costs to support these endeavors. To make a donation to the "Fashion Without Limits" design initiative, visit http://vpa.syr.edu/alumni/get-involved/donate. (If you choose to give via our secure, online giving site, please specify "Fashion Without Limits" in the "Gift Information" section.) For more information about the initiative, contact the VPA Office of Advancement at 315-443-7095.
Fashion Without Limits 12+ EMME Award™ Inaugural Winner: Nicole Wezowicz
Nicole Wezowicz, a junior fashion design major in the Department of Design, designed the winning gown for the inaugural Fashion Without Limits 12+ EMME Award™. Fashion Without Limits is an initiative launched by supermodel Emme '85 and the fashion design program to promote the creation of 12+ designs in the junior year. Emme selected Wezowicz's gown during the VPA/Newhouse Fashion and Beauty Communications Milestone fashion show in early April. Wezowicz will receive $500, and Emme will wear her winning design at a red carpet event. "The inspiration behind the dress was to keep it classy, elegant and comfortable," says Wezowicz.
Hot off the press from Mallory Schlossberg @MASHABLE
The world's first plus-size supermodel is working to solve a $9 billion problem
Syracuse University
The plus-size fashion industry is facing a crisis.
Full-figured women are more than willing to spend money on trendy clothing items, but complain that few retailers are providing women with fashionable options that work for them.
Melissa Aronson, known professionally as Emme, is widely recognized as the world's first plus-size supermodel. She decided to get to the root of the problem by investing in a design program that trains students on how to create better plus-size clothing.
Emme spoke to Business Insider about how she launched Fashion Without Limits at her alma mater, Syracuse University.
The program's curriculum teaches emerging designers how to craft designs for plus-size women.
"You've gotta go where the designers are taught," Emme told Business Insider.
Although she initially planned to launch the program as a Kickstarter, she ended up joining forces with Syracuse University.
Emme notes that the general consensus among plus-size women is "I am more fashionable than what you are giving me — no more muumuus!"
The current, matronly one-size-fits-all isn't working, according to Emme.
"Once and for all, not all curves are the same," she said.
At first, this revolutionary curriculum was met with some resistance, she said.
But the rewards for learning how to build designs for plus-size women could be immense for the students and the retailers who hire them.
"We wanted to have designers to graduate our fashion design school with an inclusive fashion education that when they would walk out of these doors, they would be able to be … in high demand for those particular manufacturers and design firms that are looking to get into full figured," Emme explained. "They [manufacturers] are really, really nervous because there's such a very high cost to get into the business if the designer does not [know how to make a dress] soup-to-nuts [for a] full figure."
Emme says she worked with NPD analyst Marshal Cohen, who claimed retailers are missing out on $12 billion to $14 billion a year in sales from plus-size consumers. (IBISWorld reported the market was worth $9 billion in July.)
These figures show the plus-size industry is a highly profitable one.
Syracuse University's Nicole Wezowicz, the winner of this year's contest, and her winning design.
While retailers like Target have attempted to cash in on this industry with its plus-size line AVA + VIV, and Bloomingdale's offers designers such as Michaels Kors and Eileen Fisher in larger sizes, some stores still dismiss plus-size women.
Even if they market to them and sell clothing in their sizes, they still put these women in a corner — and sometimes, they do it literally.
"I think department stores are scratching their heads, saying — I'm not going to mention the specific department store, but I will say — do not put your full-figured department next to maternity or in the back near home goods," Emme told Business Insider. "Because women are starting to come through and live-tweet department stores!"
Average, nonsupermodels will have more options if designers know how to craft designs for women with bigger builds. Emme acknowledged that she's a supermodel, and not every woman has a team at her disposal to help find a perfectly fitting outfit. She said that "doesn't help the people that I represent."
Most importantly, this initiative to have a wider range of designs will not only position students to have more profitable careers, but will create a wider range of options to plus-size women. After all, plus-size women are more than just plus-sized.
"This full-figured customer is hippie chick, she is preppy, she is conservative, she is more modern — she is all the personalities that you find in the Missy market. The full-figured customer is the same," Emme said.
"No longer is it one full-figured cut for all," she said.
But while more and more plus-size women's voices are getting heard — whether it be via petitions online or bloggers — Emme said this issue encompasses more than the plus-size community.
"Truly, this issue is not about plus size," she said. "It is a feminist and women issue."
You can follow #SUFWL and @Supermodelemme for updates regarding the initiative. 
Read more: http://www.businessinsider.com/emme-and-fashion-without-limits-2015-7#ixzz3hMb9KOsE
Comments are welcome!